Hello beautiful peeps!
In case you don't know me, my name is Ana Regina – you can call me whichever – and I have a blog called Diversion3000 *I'm concerned the name is weird*
Moving on…
I'm really excited to be a part of this blog! I wanna thank the wonderful Ally for having me here, I'm really happy!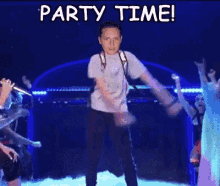 She told me that we could post anything anytime we wanted, that's great! I still haven't figured out which days to post or what to write about, but I'm thinking about it! 😊
Now let's talk talk about me a little…
I'm currently 15.
I'm hispanic
I wear glasses
I like music, mostly pop, electro, house, rap, hip hop, swing, any song that has a trumpet in it, 80's, 90's…
I'm a little bit of an introvert
I love youtube
I love fashion!!!!!!
I love blogging obviously
And I actually like going to school… I know, why do I even live with myself 😂
And that's it. I hope you liked this post even though it was really short and there was no interesting content in it.
I hope to see you very soon in here! Have an amazing day!
Virtual hugs!